Did I already mention my overzealous love for Christmas? A time of good cheer and good vibes, where everyone just loves each other. I might have this overly perfect point of view about it because me and my family have never celebrated the holiday. But I have been fortunate enough to have some great holidays with friends and roommates. Which, I think, makes me a total Christmas convert.
But I digress, this Christmas is about to get cray-cray.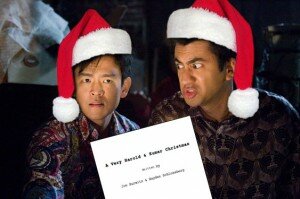 A Very Harold and Kumar Christmas
After some scandalous news that Kal Penn left his White House post to co-star in the above-mentioned movie, (maybe the pay is better?) I have to say I'm excited to see the trailer/movie. The release date is November 4, 2011. Put your 3D glasses on.